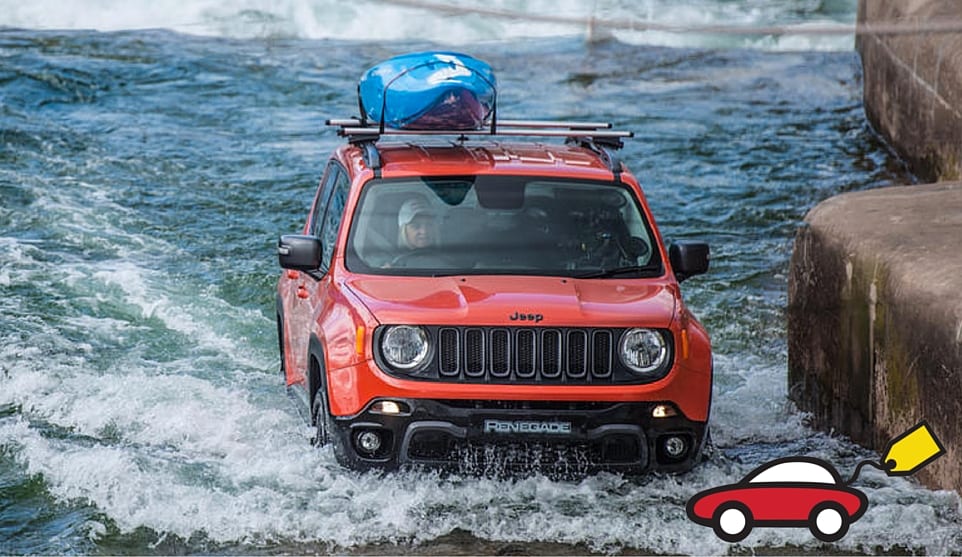 Just when you think you've seen it all, something else comes along.
The Jeep Renegade is known for being a tough compact car, but recently Jeep wanted to prove once again just how scrappy it really is by driving it through an Olympic white-water rafting course.
It doesn't get much cooler than that, folks.
Jeep allowed an Olympic snowboarder to direct the Jeep Renegade through the course at the Cardiff International White Water Centre in Wales. Good news: things went well.
You can watch a clip of the experience below.
The 2016 Jeep Renegade is yet another award-winning Jeep to add to the lineup. It makes its money from fuel economy, convenient storage, interior space, comfort, 4x4 capability, safety and technology.
Thirty-one miles per gallon is achieved with its standard engine, which is pretty amazing. No matter where you're going, you're going to get quality gas mileage.
Probably the most impressive feat is the Renegade's best-in-class 4x4 capability. It was given the Trail Rated badge, which means it can tackle the tough terrain that the world has to offer.
If you'd like, you can take a look at our
2016 Jeep Renegade inventory by clicking here.
We have it for sale at our
Jeep dealership in Hudson, Wisconsin
.
To stay updated with all Jeep news and more, visit our
Facebook page.
We provide daily updates. See you there!
Are you looking for the 2015 Dodge Charger for sale near Woodbury, MN?
Click here.
Are you looking for the 2016 Chrysler 200 for sale near River Falls, WI?
Click here.
Luther Hudson Chrysler Dodge Jeep Ram proudly serves customers in Hudson and River Falls, Wisconsin. Our customers live in both Wisconsin and Minnesota. We also serve people shopping for new and used cars in Afton, Bayport and Woodbury, Minnesota.