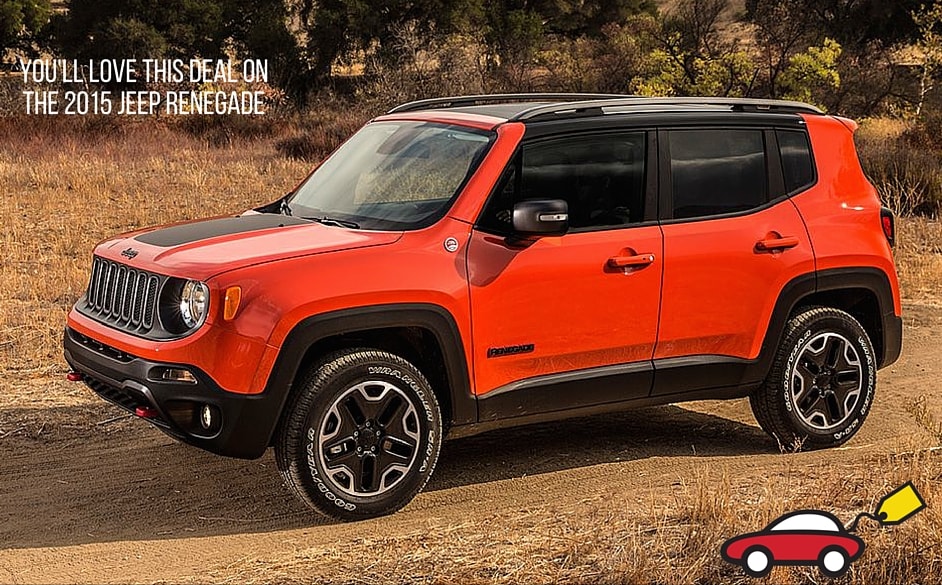 Are you looking for a new car and you want to save thousands of dollars? You've come to the right place.
Here at Luther Hudson Chrysler, we believe in saving our customers money, and letting them know when there's a sale or specials going on. We're constantly updating these things, and we think the deal we have on the 2015 Jeep Renegade Latitude will be one that you'll want to check out.
The MSRP on the Renegade is $30,605. Not too bad, right? But with discounts and rebates, we've knocked it down to $27,999. That's big savings.
And this isn't an average vehicle, either. Ward's Auto rated the 2015 Jeep Renegade as the most capable small SUV ever built. It's also recognized as one of Ward's 10 Best Interiors, based on smart technology, materials, value and impressive features.
You'll receive 31 miles per gallon with the 2015 Jeep Renegade Latitude. With gas prices dropping at a rapid pace right now, you could save more money than ever before.
And if that wasn't enough, it has the best 4x4 capability in its class. But it's a Jeep. You probably expected that already.
If you'd like to check out some more specials, click here and check out our specials page. We update it regularly, so there's always something new there. We highly encourage you to check that page out before you start shopping for a new car, because there's a chance we might have a great deal for you on a vehicle you're looking for.
Please feel free to give us a call if you have any questions or comments on the 2015 Jeep Renegade Latitude. We'd love to assist you!
Luther Hudson Chrysler Dodge Jeep Ram proudly serves customers in Hudson and River Falls, Wisconsin. Our customers live in both Wisconsin and Minnesota. We also serve people looking for new and used cars in Afton, Bayport and Woodbury, Minnesota.