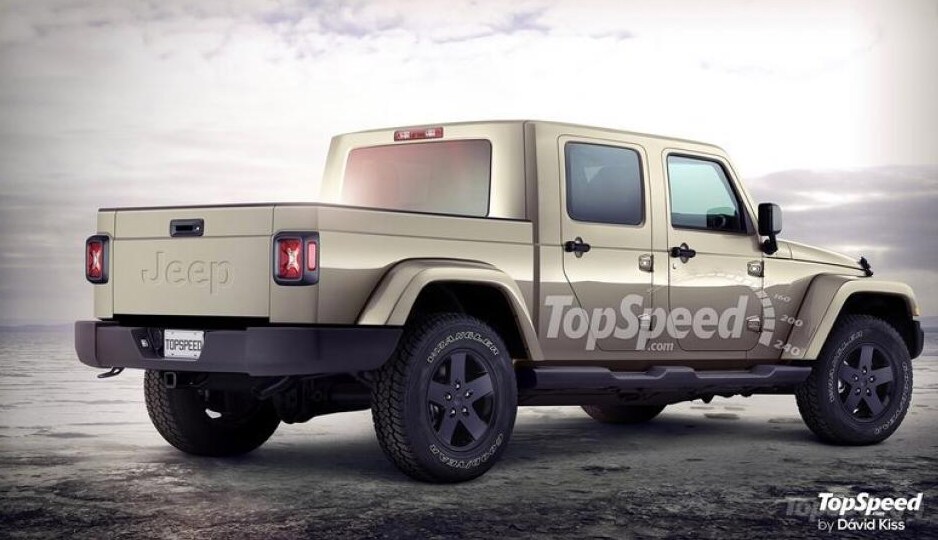 Not too long ago, Jeep announced that they are working on a pickup version of the iconic Jeep Wrangler. But then they said it wouldn't even come out until 2018.
That left Jeep diehards itching for more, or even at least a hint of what it'll look like. Fortunately, Top Speed has our back.
If you aren't familiar with Top Speed, they're a news source that's quite close with huge automakers such as Jeep. That means the rendering you see above is a VERY good idea of the looks of this pickup. The popular news site spends a ton of time paying attention to rumors and rough sketches, and through the combination of the two gave us this picture.
Exterior
The cargo bed will be a huge focus for Jeep. According to Top Speed, it'll most likely be made from composites or plastics to keep it lighter. The Toyota Tacoma and Honda Ridgeline have done the same thing with their new models. Intelligent cargo management is probably going to be available, as Jeep is always looking for ways to make things easier for their customers.
Interior
The sketches of the cabin of the Jeep Wrangler pickup are a bit more abstract, as Jeep has been a bit more secretive with that aspect. But, Top Speed has it on good authority that it'll most likely come with comfortable and refreshing interior seating. Drain plugs in the floorboards, removable carpet and revolutionary seating will definitely be involved.
The dashboard will have the latest 8.4-inch HD touchscreen that'll come with technologies we've all come to love, such as Bluetooth, navigation, voice commands, controlling audio and much more.
But that's not it. Jeep has also announced that a SUV version of the Jeep Wrangler is coming in 2018 as well. While we don't have photos of that yet, we're sure something will come along in the near future.
The pickup and SUV will share a similar chassis, drivetrain, interior and most of its exterior parts. Overall, they're going to be very loyal to the Wrangler look and the overall Jeep brand. Don't expect something drastically different. In other words, "if it ain't broke, don't fix it."
Our
Jeep dealership in Cambridge, Minnesota
is incredibly excited about all of this Jeep news. Follow us on our
Facebook page
to keep up with everything that Jeep is doing, along with Chevrolet, Buick and more.
Are you looking for the 2015 Dodge Charger for sale near Woodbury, MN?
Click here.
Are you looking for the 2016 Chrysler 200 for sale near River Falls, WI?
Click here.
Luther Hudson Chrysler Dodge Jeep Ram proudly serves customers in Hudson and River Falls, Wisconsin. Our customers live in both Wisconsin and Minnesota. We also serve people shopping for new and used cars in Afton, Bayport and Woodbury, Minnesota.