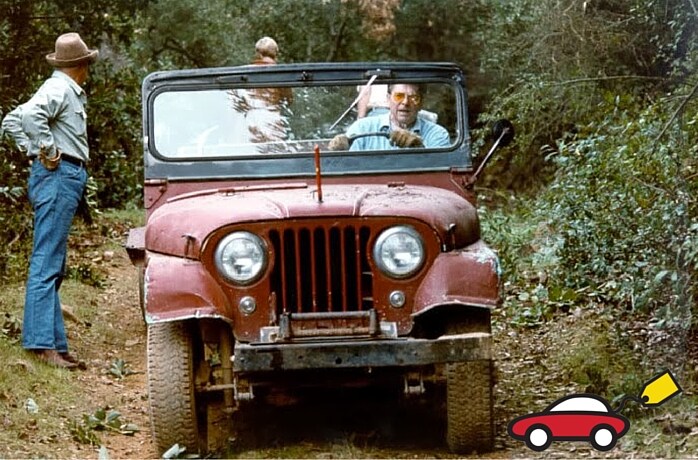 Jeep is an iconic American brand, so surely there have been multiple huge names in American history to own one, right?
Correct.
One of the more prominent names was former president Ronald Reagan. It was a 1962 Willy's Jeep CJ-6, purchased by his wife, Nancy, as a Christmas gift in 1963. They drove it around their Rancho del Cielo in the California Santa Ynez mountains, during a large part of his presidency.
Fun fact: It's still alive and kicking today.
Just this week, the famous Jeep visited the National Mall in Washington D.C. in honor of the Historic Vehicle Association. It'll head back to Reagan's ranch afterwards, where it still lives to this day.
It was originally painted green and features side-facing rear bench seats, a 134 cubic-inch flathead four-cylinder engine and a 8,000-pound wench.
Reagan's attorney general and longtime friend, Edwin Meese, said that Reagan absolutely loved to take his Jeep for random drives around the ranch. In fact, it was the only time he could EVER drive during his presidency.
What do you think about Reagan's Jeep? Do you love it? We surely do. Let us know your thoughts on our
Facebook page.
We always post vehicle news, new specials, Wisconsin news and more.
Are you looking for the 2015 Dodge Charger for sale near Woodbury, MN?
Click here.
Are you looking for the 2016 Chrysler 200 for sale near River Falls, WI?
Click here.
Luther Hudson Chrysler Dodge Jeep Ram proudly serves customers in Hudson and River Falls, Wisconsin. Our customers live in both Wisconsin and Minnesota. We also serve people shopping for new and used cars in Afton, Bayport and Woodbury, Minnesota.